Automated vehicles
The Western Australian Department of Transport (DoT) is working to make automated, connected and related vehicle technologies available in our state, to improve safety, improve liveability and increase productivity.
Safety
Safe vehicles.
Safe roads.
Safe citizens.
Liveability
More convenient, accessible transport.
Cleaner, people-focussed cities.
Productivity
Industry growth, innovation and job creation.
Transport and freight efficiency.
Western Australia is trialling vehicles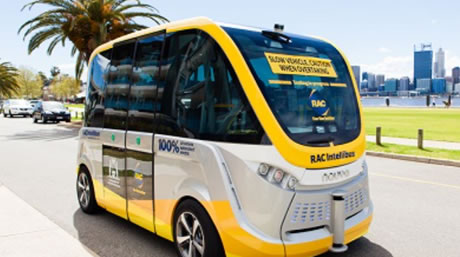 State and local governments have worked closely with trial applicants to facilitate trials of automated vehicles on our roads. Two trials are ongoing, and there are likely to be further trials in the near future.
Currently, legislation in Western Australia does not allow vehicles without a driver in full control on our roads. However, for limited and controlled use we can grant a vehicle an exemption from certain vehicle standards requirements and/or conditions. Anybody intending to conduct a trial in WA will require a permit from the Department of Transport for each automated vehicle (AV) being trialled.
Image: RAC Intellibus.
Western Australia is working with other Australian Governments to prepare for automated vehicles.
Australia wide there is work underway to ensure that automated vehicles can operate easily and safely and be used across State boundaries. Western Australia is actively involved in this work, to ensure the national recommendations are appropriate for our state.
The National Transport Commission is considering the vehicle standards and safety concerns in order to develop nationally consistent safety legislation. For more information visit the National Transport Commission Automated vehicles in Australia website.
Austroads, the association of road authorities, is looking at the operational and road use questions for the introduction of these new technologies. For more information see: Austroads Connected and Automated Vehicles website.
Conducting an Automated Vehicle Trial in Western Australia
The Western Australian Government encourages businesses to showcase their innovative transport and public safety solutions. To this end we enable privately funded trials of automated vehicles to better understand viability, risks and public readiness.
Applying for a permit to trial an automated vehicle
Applicants will almost certainly need a permit from DoT for each automated vehicle (AV) in the AV trial on a road or road related area. Exemptions from certain vehicle standard requirements may be necessary and conditions of use may need to be applied to the permit, or both.
Recommended process for a successful trial proposal
Information to consider when developing your proposal:
NTC Guidelines for Trials of Automated Vehicles in Australia. DoT refers to these guidelines when assessing ALL AV trial applications.
Vehicles involved in trials are not covered under the Insurance Commission of WA Motor Injury Insurance Scheme. You will need to arrange and provide evidence that you have attained appropriate insurance coverage before a permit can be issued.
An individual will be required to be present in the vehicle at all times while it is in operation before a permit can be issued. The individual must hold the appropriate class of driver's licence and comply with all WA road laws (e.g. drink driving).
Where vehicles are to be imported you will need to contact the Department of Infrastructure, Transport, Regional Development and Communications. Information on this process can be found on their website. The import approval will be required as part of the AV trial application. Please be aware that if the vehicle is to be imported the application process could be lengthy so it is recommended this process commence as early as practicable.
All applicable legislation will need to be complied with throughout the trial (e.g. road traffic legislation, occupational health and safety).
Step 1 - Contact the DoT to discuss your proposal
A permit for the vehicle/s may or may not be required and a preliminary discussion between you and DoT will establish the parameters.
Early engagement with DoT will provide an opportunity to understand how we can facilitate your proposal and for DoT to outline what steps would be required to obtain approval. For example, the nature and location of the proposed trial may necessitate consultation with stakeholders outside of DoT such as Local Government.
Contact the Department of Transport
Step 2 - Submit your application
DoT will work with you to understand the nature and intent of your trial. We will then provide the application form, where we will require detail and supporting documentation proportionate to the risk level of the trial.
Legislation that may be applicable
Additionally, you may need to consider other legislative provisions relating to occupational safety and health, consumer protection, and environmental issues, depending on the nature of the AV trial.