Bailer or bilge pump
What you need to know about bailer or bilge pumps. All vessels must carry some form of bilge pump or bailing equipment.
Bilge pumps:
Are required for boats 7 metres and over.
May be manual or power operation.
Must be capable of pumping 4 kilolitres per hour.
Important safety information:
If you fit an electric bilge pump with an automatic switch it must have an indicator to show when the pump is working.
Check its operation regularly and keep it well maintained.
The bilge pump should be protected by a strainer to prevent choking of the pump suction. Clean bilges reduce the possibility of blocked pumps.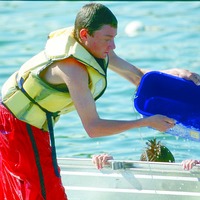 Bailers are used for vessels under 7 metres in length.
Depending on the size of the vessel, a strong bucket with 2 metres of rope attached makes an excellent addition to your gear list.
As a safety item, it is useful both for bailing water out and fighting fires.