Kite and windsurfing
Western Australia is a world class venue for kite boarding, and whether at an elite or recreational level, it is important to always ensure your safety comes first. Find out how to kite and wind surf safely, including safety equipment and tips.
The Department of Transport has implemented new laws to increase safety for kite and wind surf users. The laws apply to people using a kite and wind surf or any other recreational equipment that is principally propelled by wind.
Kiteboarders and Windsurfers are required to carry safety equipment in accordance with the WA marine laws. Ensure safety equipment is in good working condition and is easily accessible.
Within protected waters (except Lake Argyle and Cambridge Gulf) or within 400 metres of the shore in unprotected waters, no safety equipment is required.
Between 400 metres and 2 nautical miles from shore in unprotected waters a lifejacket and an-in date inshore distress flare kit or a registered EPIRB/personal locator beacon (PLB) must be carried.
Between 2 and 5 nautical miles a lifejacket and an in-date registered EPIRB/PLB must be carried.
Over 5 nautical miles a lifejacket and an in-date offshore distress flare kit and an in-date registered EPIRB/PLB must be carried.
Familiarise yourself in the operation of safety equipment.
Identify the safety equipment items that have an expiry date and record them on a Department of Transport Don't Expire sticker. Safety gear with an expiry date and/or maintenance date, include distress flares, EPIRBs/PLBs and inflatable life jackets.
Safety advice
Always check your equipment prior to going out.
Use equipment suitable for the conditions.
Always wear an approved lifejacket beyond 400 metres from shore.
Carry a signalling device, such as a flare.
Have a way of communicating emergencies.
Always use a safety release system.
Rehearse equipment failure using the safety release system.
Although operators of kite and wind surfing equipment are not required to hold a Recreational Skippers Ticket (RST), they are still considered to be the responsible skipper.
A sailboard, kite surfboard or any other similar recreational equipment used by a person in the course of sailboarding or kiteboarding is taken to be a vessel.
As with all skippers, they are deemed by law to be responsible for the safety of their vessel and this includes obeying the collision regulations that apply to all vessels.
Abandoned Equipment
Always inform the local Police if you've had to abandon equipment. In the past marine search and rescues have been unnecessarily activated after locating abandoned equipment.
It's also a good idea to label your equipment clearly with your contact details so it is returned to you.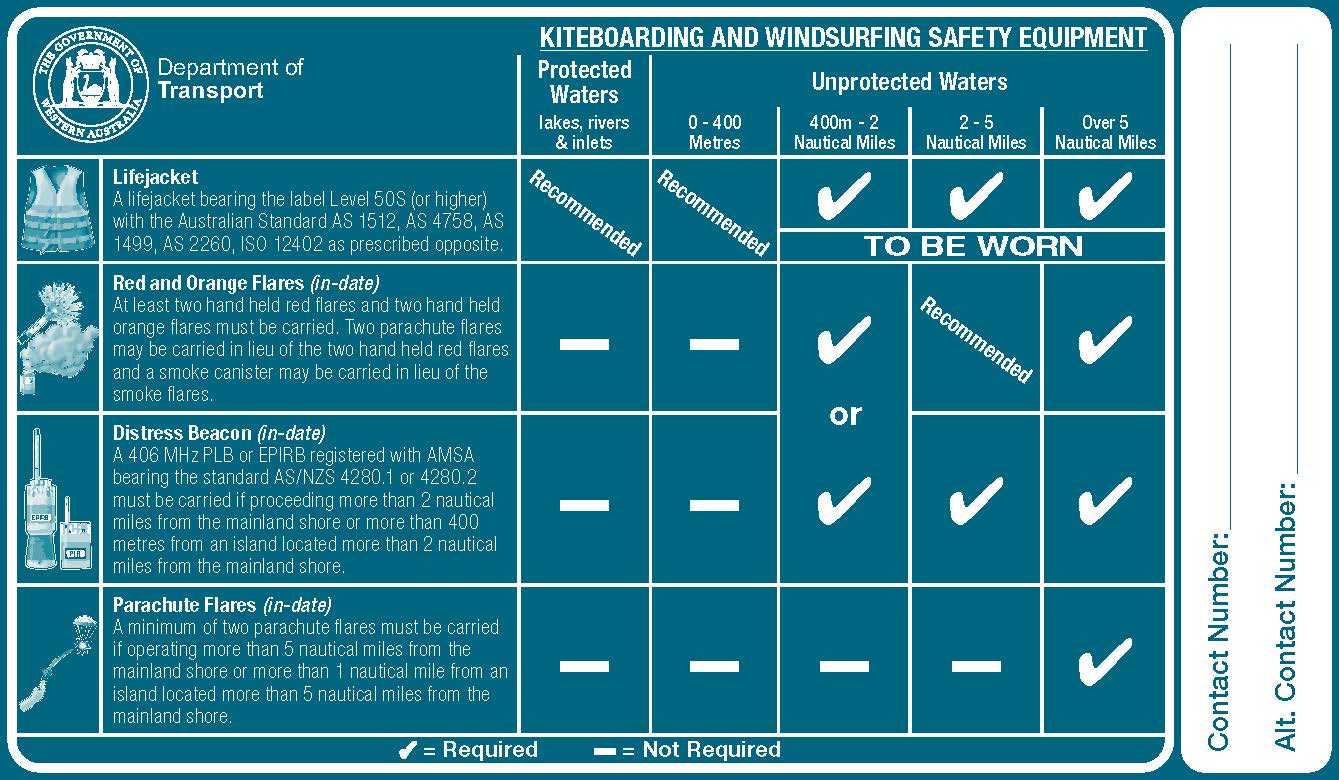 Lifejackets and visibility
It is a requirement that lifejackets are worn when operating more than 400 metres offshore in unprotected waters. This lifejacket can be a level 50S or higher.
It is strongly recommended that an approved lifejacket is worn at all times when kiteboarding or windsurfing.
If using inflatable lifejackets, it is recommended that they be serviced regularly in accordance with manufacturers advice.
Find out more about lifejackets.
Kite and Windsurfing Safety Equipment sticker
A sticker is available providing information about the new safety equipment requirements. For a copy of the Kiteboarding and Windsurfing quick reference sticker email us or call 13 11 56.