Remote Services
The Department of Transport, as part of an ongoing commitment to substantive equality, has implemented a program of works to improve service delivery for remote communities.
DoT provides mobile service delivery to regional and remote locations in the Kimberley, Pilbara, Mid West and Goldfields regions. This service includes:
Provision of theory tests.
Provision of practical assessments.
Find out which communities, towns and regions we service, support and assist.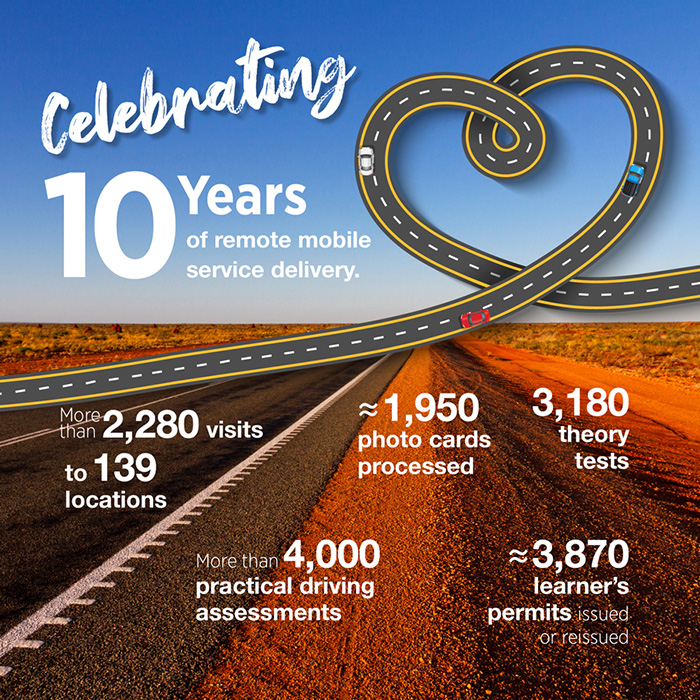 Celebrating 10 years of remote mobile service delivery
More than 2280 visits to 139 locations
More than 4000 practical driving assessments
1950 photo cards processed
3180 theory tests
3870 learner's permits issue or reissued
Our teams who visit remote communities are passionate about what they do. We travel across WA to some of the most remote and isolated communities bringing with us a one-stop-shop for licensing services.
The stories that come from our program reflect how important and how life changing getting a licence for someone in a remote community can be and how important having access to these type of services are to regional and remote areas.
A word from our Mid West team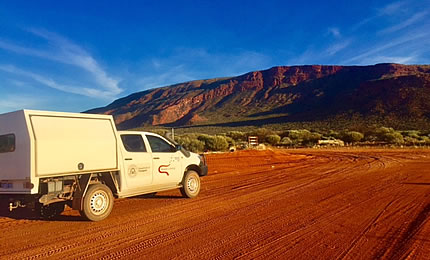 The drive starts early morning which means there is no daydreaming, as the passenger you are the wildlife spotter. After 2 hours, we try to pick a nice spot to swap drivers however after two minutes of stretching our legs we are fighting ninja style with the flies and retreat back to the vehicle. It's 9:00 am and already 35 degrees and climbing. An hour later is our first and last fuel stop until our destination. The road and countryside slowly turn to a deep red colour. From this point on we are in the real outback - no phones, no internet, no services and pretty much no traffic apart from the kangaroos and emus.
Before leaving Geraldton we were told that a river was running over a crossing which had previously closed the road, but the locals said it is now fine to cross. We managed to make our way through the deep part of the crossing and quickly leave the water, there are squeals of excitement and high fives all round, not a bad effort for a couple of office chicks! It's been almost 10 hours and our backsides are numb and legs a little stiff. Our accommodation is basic but clean. The first night is the worst sleep. Unfamiliar bed, unfamiliar sounds of the rattling air conditioner, unfamiliar darkness, no ambient light from buildings or street lights out here it's just wide empty space out here.
On the road early as Burringurrah is about a 45 minute drive away. We get there and barely unpack, with three clients already waiting to see us. From then on it is a constant flow of people. We were fortunate enough to have another few agencies visit the community the previous day solving many problems with unpaid fines had already been dealt with. For a lot of people living in the community having the correct identification is difficult. a flood also meaning many paper documents were also destroyed in a flood. We didn't stop the whole time we were there. This was a very successful trip; we served 24 people and reissued six Driver's Licences. One driver had not had a licence since 1998 and is now back on the road. We were exhausted but so overjoyed that we had helped a number of people in the community which will have a positive impact on the whole area.
Once again we were up at dawn with the screech of the galahs. Some 12 hours after leaving Mount Augustus we arrived home, sore and exhausted but very proud of the service we provided. A person getting their licence in such communities is a huge benefit to the whole community not just that one person and their family.
DoT partners with private industry and Aboriginal corporations to deliver services in local communities to local people.
These partnerships allow customers to sit the road rules theory test in a safe, familiar environment thus increasing success rates.
As some customers also have barriers in regards to literacy and numeracy, the theory test has been revised with a greater use of pictures and simplified terminology, however, there has been no change to the competency standard.
Additionally, such settings allow for the theory test to be delivered verbally.