Port Hedland to Cape Lambert (historical)
Find out about historical tide and wave data from along the Western Australian coast from Port Hedland to Cape Lambert.
Data available and how to order
The map below shows major towns in the area and the locations where tide and/or wave data have been collected. Please view the tables below for more information on the data that is available at each location.
To order the data, please use our online data request form.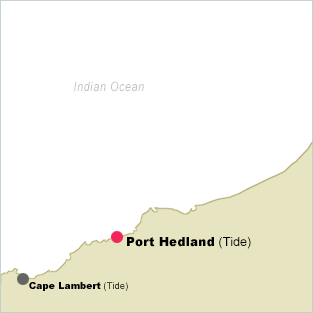 Cape Lambert historical tide data
Historical tide data
The table below shows the dates and times during which tide data was collected for Cape Lambert.
Note:
Time is presented according to the 24-hour clock.
| Start year | Start date | Start time | End year | End date | End time |
| --- | --- | --- | --- | --- | --- |
| 1983 | 8 September | 10:15 | 1985 | 16 September | 11:15 |
| 1985 | 16 September | 11:30 | 1987 | 21 April | 09:15 |
| 1987 | 30 April | 12:00 | 1987 | 30 November | 13:00 |
| 1987 | 30 November | 13:15 | 1988 | 22 August | 09:30 |
| 1988 | 15 December | 11:30 | 1988 | 31 December | 23:45 |
| 1989 | 1 January | 00:00 | 1989 | 23 April | 21:15 |
| 1990 | 1 January | 00:00 | 1990 | 31 December | 23:45 |
| 1991 | 1 January | 00:00 | 1991 | 31 December | 23:45 |
| 1992 | 1 January | 00:00 | 1992 | 31 December | 23:45 |
| 1993 | 1 January | 00:00 | 1993 | 20 February | 14:00 |
| 1993 | 20 February | 20:15 | 1993 | 7 August | 14:30 |
| 1993 | 7 October | 11:30 | 1993 | 27 November | 13:00 |
| 1993 | 27 November | 19:00 | Present | | |