Junior Crew Program
Find out about the Junior Crew Program and the free resources available.

The Junior Crew program is a marine safety educational resource for primary school students in Years 3, 4 and 5.
The program introduces students to marine safety, focusing on the safe use of boats and how to share the water safely with others while boating.
The program was developed in partnership with the Department of Education and School Curriculum and Standards Authority and addresses the Australian Curriculum General capabilities of:
critical and creative thinking
personal and social capability.
The program includes a range of resources that available FREE to Western Australian primary school teachers.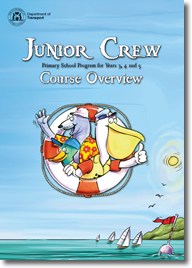 Each Junior Crew Pack contains the following hardcopy resources for teachers:
course overview
teacher's resource pack
Worksheets
'Skip the Boat Safe Bird' picture book
sample student logbook and certificate
A3 flashcard posters.
It is divided into 5 chapters based on different topics:
Weather is King - boating weather information
Safety Saves Lives - safety equipment used in boats
Keep Your Boat Afloat - overloading and buoyancy of a boat
Tell Someone Where You Are Going - logging on for a voyage on the water
In an Accident - actions to take in the event of an accident.