Junior Crew Program
Find out about the resources provided in the Marine Education Boatshed's Junior Crew Pack, and how to order copies for your class.
The Junior Crew Pack is a marine safety educational resource for primary school students in Years 3, 4 and 5. It focuses on 3 key marine safety topics:
Safe use of boats.
Personal boating safety.
Safety of others when boating.
The program was introduced to present important marine safety knowledge and skills from the Recreational Skipper's Ticket (RST) in a way that primary aged students can appreciate.
It was developed by the DoT's Marine Education Boatshed in partnership with:
Department of Education.
School Curriculum and Standards Authority.
Students are awarded a Junior Crew Certificate upon completion of a number of worksheets, activities and tasks.
This resource is available FREE to teachers in Western Australian primary schools.
Use the online form below to order your Junior Crew Pack, which will be delivered directly to your school.

All fields are mandatory, and will be used to verify eligibility and to provide contact details to assist with delivery.

Note:

Only teachers associated with Western Australian primary schools are eligible to receive a free copy of the Junior Crew pack.

Once your order has been received, we will confirm your order by email within 4 working days. The pack will then be delivered directly to your school's address within 10 working days.

To submit this form, javascript needs to be enabled.

Note: All fields are mandatory


The Junior Crew program is aligned to school curriculum and teachers can offer this course as a cross curricular program.
The program can be used to cover a number of themes, such as:
Water safety.
Sea and seashore.
Lakes and rivers.
Summer.
Holidays.
Weather.
Recreation.
The program addresses two of the seven general capabilities of school curriculum:
Critical and creative thinking.
Personal and social capability.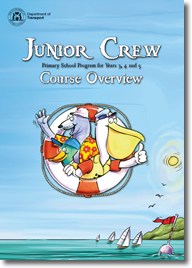 Each Junior Crew Pack contains the following hardcopy resources for teachers:
Course overview.
Teacher's resource pack.
Worksheets.
'Skip the Boat Safe Bird' picture book.
Sample student logbook and certificate.
A3 flashcard posters.
It is divided into 5 chapters based on different topics:
"Weather is King" - Boating weather information.
"Safety saves lives" - Safety equipment used in boats.
"Keep your boat afloat" - Overloading and buoyancy of a boat.
"Tell someone where you are going" - Logging on for a voyage on the water.
"In an accident" - Actions to take in the event of an accident.
Each pack also contains a DVD to show a Patrol Boat visitation as mentioned in the course overview.
The following sections provide information on the major resources, as well as downloadable copies of each resource.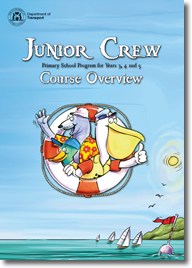 The Course Overview provides teachers with an overall understanding of the Junior Crew program's contents and delivery methods. It also provides links to the WA Curriculum Framework and how the topics tie into it.
Please download the following: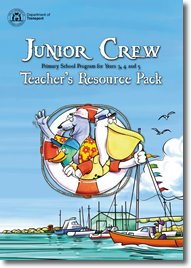 The Teacher's Resource Pack provides the lesson plans and tasks as well as support information to assist teachers in the delivery of the subjects. The pack contains topics, tasks, worksheet answers, major activities, resource lists, discussion points and background marine safety information which will enable students to complete the various tasks.
The structure of the Teachers Resource Pack follows the same format for each of the topics.
Demonstration of learning.
Teacher resources required.
Background information and pre-reading.
Lesson Plan.
Major Activity.
Please download the following: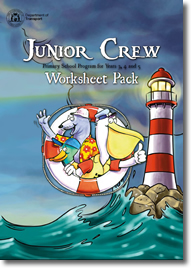 The Worksheet Pack includes 24 worksheets with various levels of difficulty to suit each year group. The worksheets are designed to be easily photocopied for classroom work. Alternatively, you can download the worksheets on the link below.
Teachers can select the worksheets and activities that best suit their class needs, teaching background and time frame. They can also vary the number of activities or create their own learning plan from the materials.
Please note: While there is much flexibility in how you may use the materials, a Junior Crew Certificate can only be awarded if a student has completed the minimum prescribed program as documented in the Logbook.
Please download the following: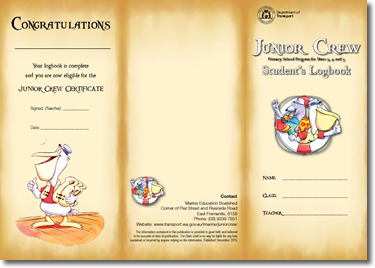 At the start of the program, students will be issued with a Junior Crew Logbook. As the student completes a worksheet or major activity, he or she can have it signed off in their Logbook by a teacher, parent or guardian.
This will help teachers and students track their progress in the program.
Please download a sample logbook below: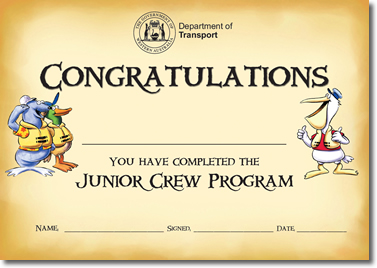 The Junior Crew Certificate will be awarded once a student has completed:
5 worksheets (1 from each topic).
2 major activities (from any combination of the first 4 topics).
'Be Boatwise' (culmination task).
Please download a sample certificate below: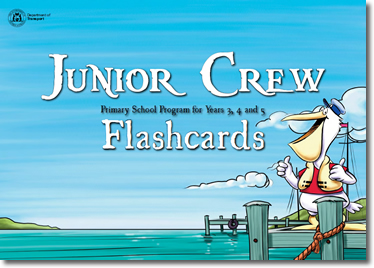 Skip the Boat Safe Bird is a short story booklet that encourages primary aged students to discuss marine safety issues, topics and messages.
The Junior Crew Pack also includes A3-sized posters that encourage discussion and classroom teaching.
Please download the following:
For more information please contact the Department of Transport Junior Crew section via email.
| Street address | Postal address | Telephone | Fax | Email |
| --- | --- | --- | --- | --- |
| | | | | Email |