Canoeing and snorkelling
Find out about the canoes and snorkelling equipment available for schools to use.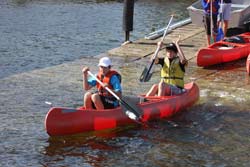 Canoeing and snorkelling are great ways to introduce marine safety to students.
The Department of Transport's Marine Education Boatshed provides a number of equipment for schools to conduct water safety education, including:
14 canoes.
24 sets of snorkelling equipment.
These can be used for:
Introductory marine training.
Marine science studies.
Basic snorkelling instruction.
To find out more, please contact us.