Survival swimming program
Find out about the Marine Education Boatshed's survival swimming program.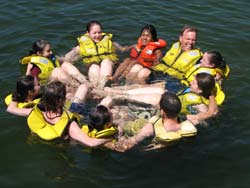 The Boatshed's Survival Swimming Program teaches people to swim in marine and coastal environments.
The program includes:
Use of lifejackets.
Entry and exit practicals.
Survival techniques.
Real-life simulations.
This program is designed to complement existing programs conducted in swimming pools.
To find out more, please contact us.